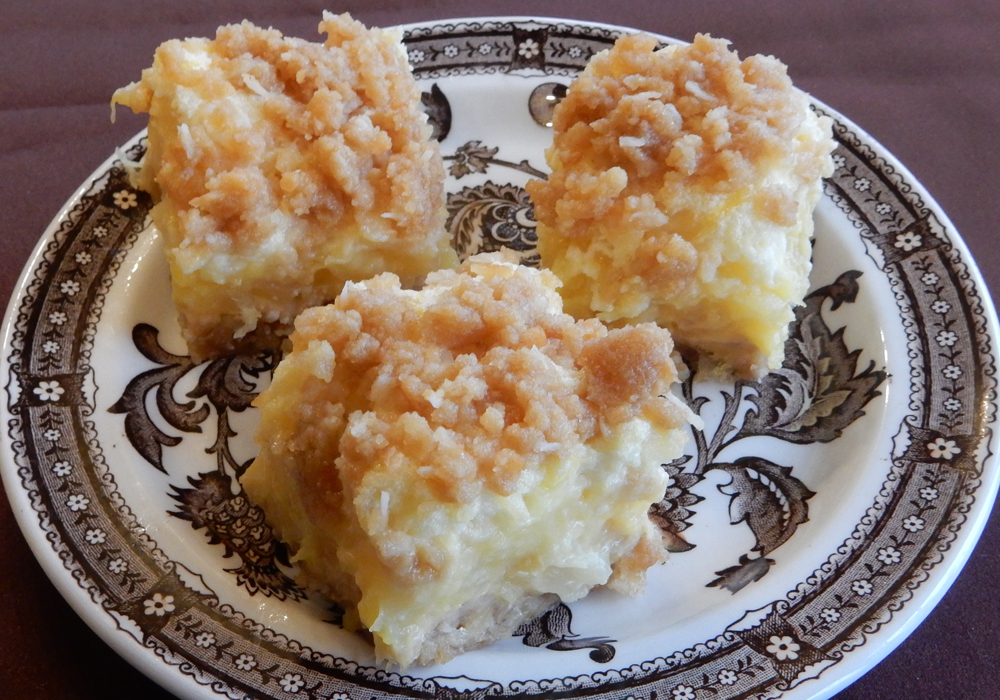 These Pineapple Squares can also be made with a lemon filling. Follow the Lemon Bars Deluxe recipe for the filling, but come back here for the delicious crumb base that these squares use!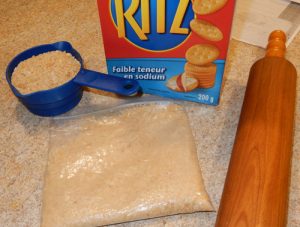 Grandma's recipe calls for "rolled crackers". I googled this… some websites refer to "rolled" as "round"… So I combined that thought with using a rolling pin, which was what I think "rolled" means… Anyone recall this recipe to know if I did the base and crumb coating with the correct ingredients? It tasted really good, especially with the coconut.. so if not, stick with what I did and it will turn out great.
Also, these are a little less sturdy than many of her squares; the filling is almost the texture of pudding.  This may be intentional, or I may have interpreted the directions of the recipe incorrectly.  l used an 8×8 pan because my 9×9 one was occupied.  Either way, they are tasty, and the base doesn't crumble on you, so probably no need for a plate! 😉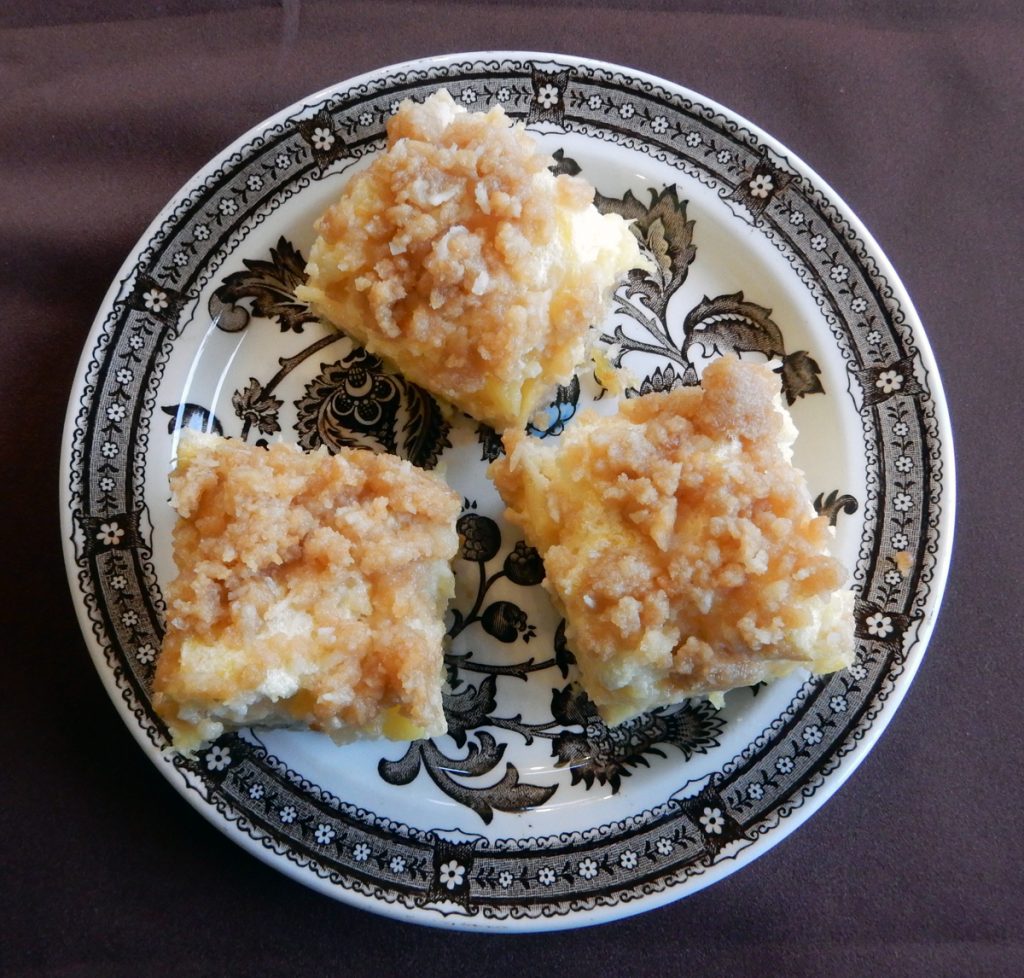 Here is Grandma's well used recipe card!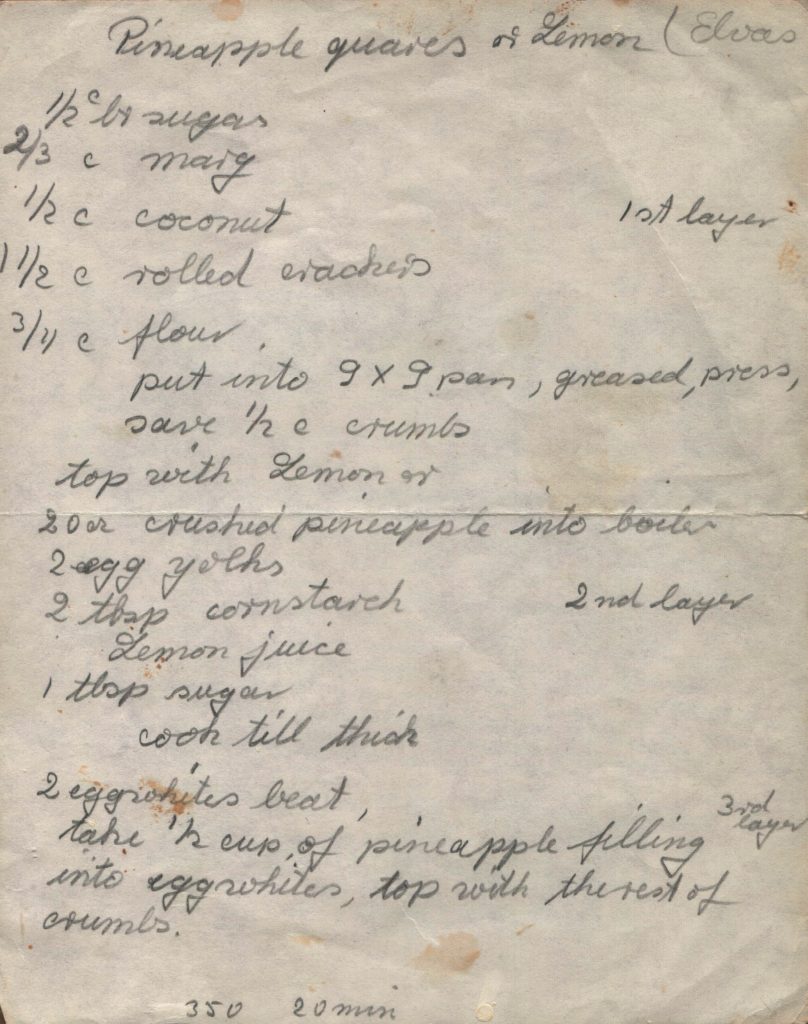 And this is the printable recipe:
(Don't be intimidated by the length of this recipe. It's not that challenging.)
Pineapple squares (or Lemon)
Bottom Layer:
1/2 cup brown sugar
2/3 cup margarine
1/2 cup coconut
1 1/2 cup rolled crackers
3/4 cup flour.
Mix all ingredients, soften margarine as necessary.
Put into greased 9×9 pan. Press.
Save 1/2 cup of crumbs for later.
Second Layer (Top with Lemon or):
20 oz crushed pineapple into boiler
2 egg yolks
2 tablespoons corn starch
Lemon juice
1 tablespoon sugar
Cook until Thick.
Third layer:
2 egg whites
1/2 cup of cooked pineapple mixture from Second Layer
Whisk the leftover 2 egg whites until they peak.
Take 1/2 cup of pineapple filling (once cooked) and mix into egg whites
Spread overtop of Second Layer.
Then sprinkle with the rest of the crumbs.
Bake at 350 degrees for 20 minutes.
Print the Recipe Only