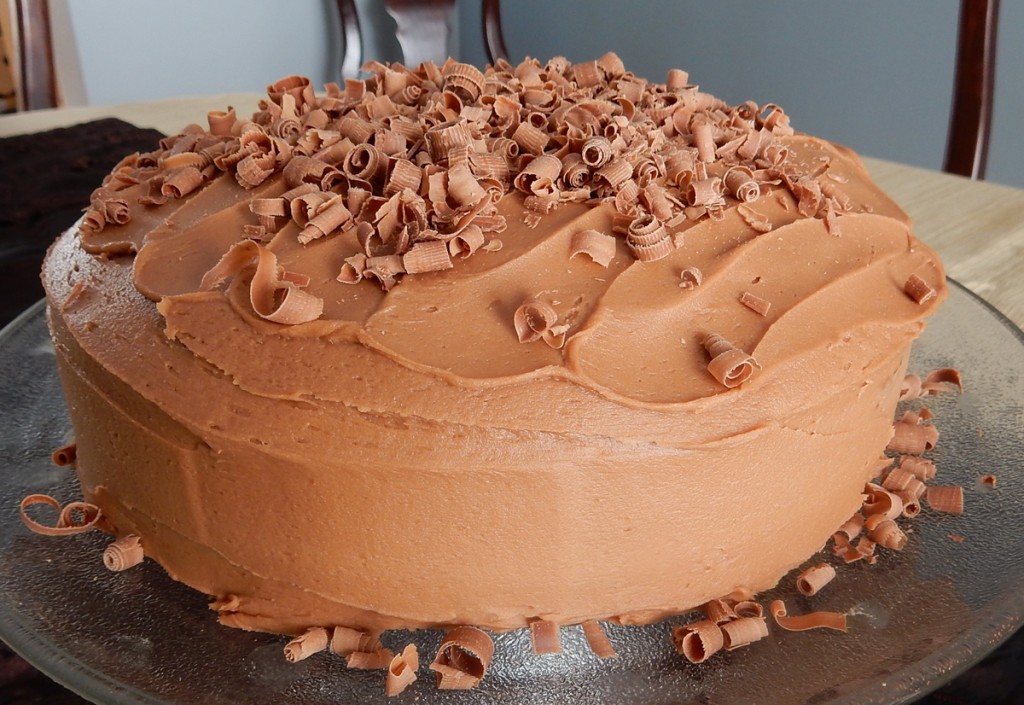 This is a two part recipe, I'll post the second tomorrow, but for now we'll start with the absolutely delicious icing. Mocha Buttercream Icing is not made with cocoa powder, but actual milk chocolate, it is rich and creamy! Very similar to the flavour of Coffee Crisp chocolate bars.
A few tips to get you started:  Use a Vegetable peeler for the chocolate shavings, about 1/2 cup or so is enough shavings.  Wash your hands under very cold water; keeping your hands there until you can no longer handle it.  Then quickly dry hands & peel the chocolate.  Otherwise you will have a sticky melted mess all over! (Take my advice on this one 😉 )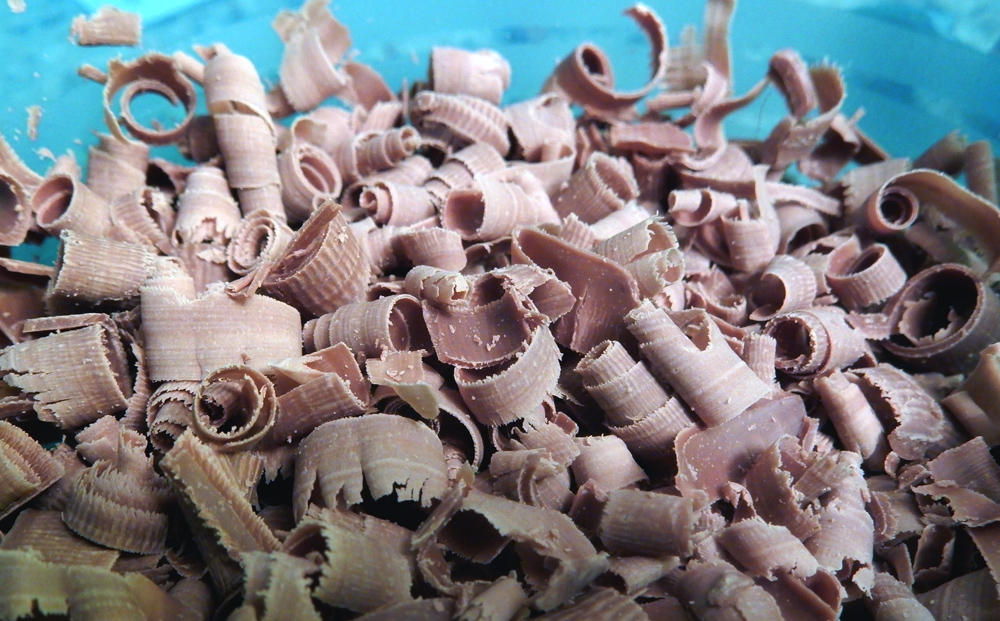 If you do not have a double boiler, melt the chocolate IN a bowl/mug inside a pot of 1/2″ water on low (hot but not boiling).  The effect will be the same.
I used very strong coffee; I actually put it through the percolator myself, and I'm sure it would not have been great to drink – it was BLACK; but it definitely enhanced the flavour and everyone enjoyed the icing.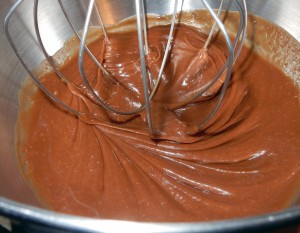 My last tip would be to mix the icing thoroughly, but if it is not "fluffy" or "thick" as Grandma's recipe implies – simply put it in the fridge, covered, until it fully cools, and it will be much easier to spread!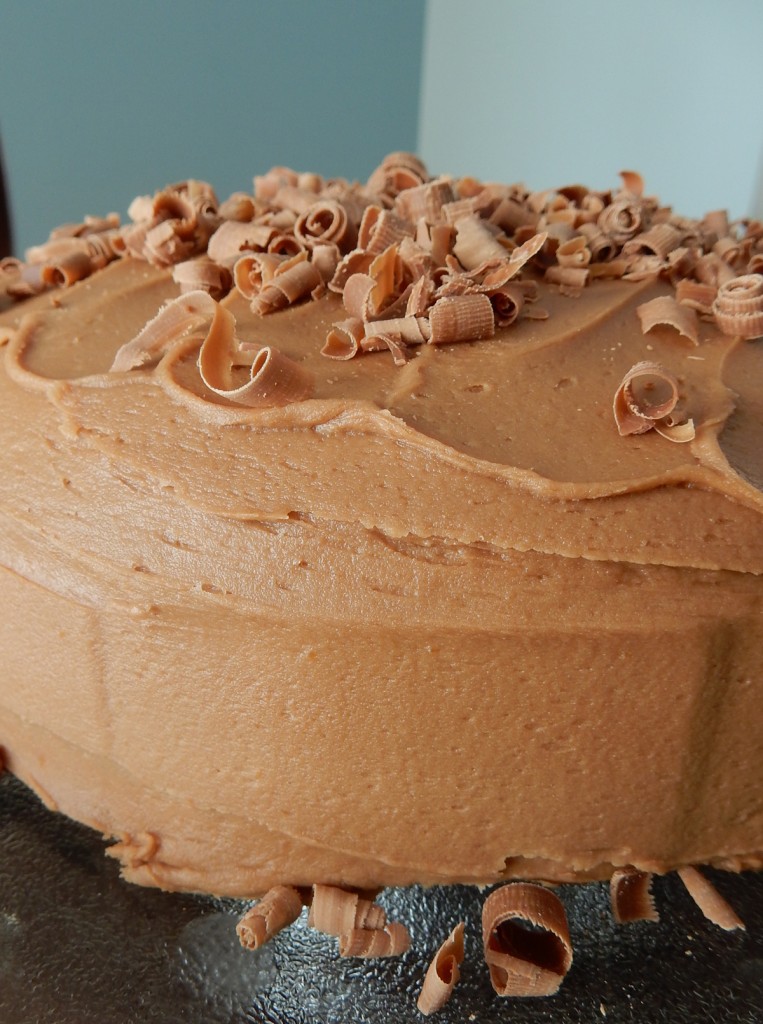 Here is Grandma's recipe card: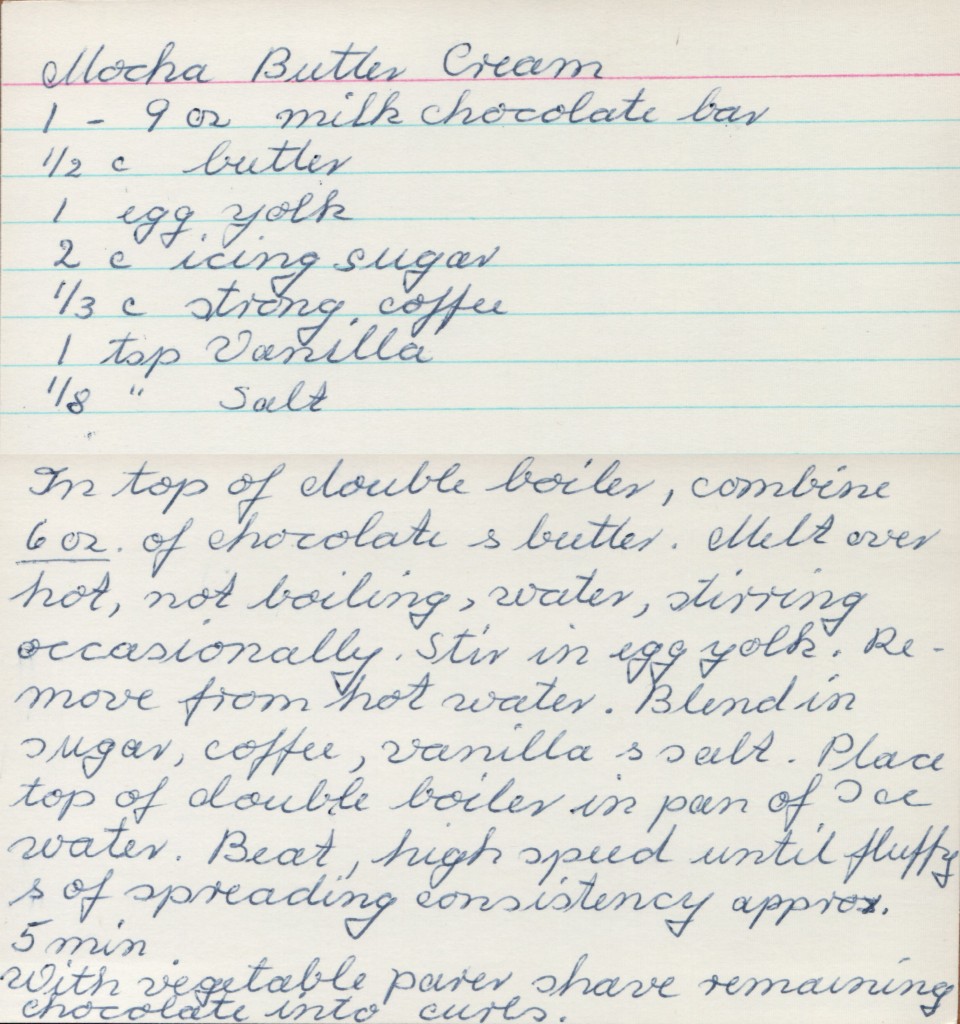 And this is the printable recipe:  [Tomorrow I will link up to the Cake recipe HERE]
Mocha Butter Cream icing
1 9oz milk chocolate bar  (about 250 – 300 g)
1/2 cup butter
1 egg yolk
1/3 cup strong coffee
1 teaspoon vanilla
1/8 teaspoon salt
2 cups icing sugar
In top of double boiler, combine 6 oz of chocolate & butter. Melt over hot, not boiling, water, stirring occasionally.
Stir in Egg yolk.

 

Remove from hot water.
Blend in sugar, coffee, vanilla & salt.
Place top of double boiler in pan of ice water. (Essentially you are trying to cool the icing as you mix it)
Beat, high speed, until fluffy and of spreading consistency, approximately 5 minutes.
With vegetable peeler, shave remaining chocolate into curls for decoration.
Print the Recipe Only